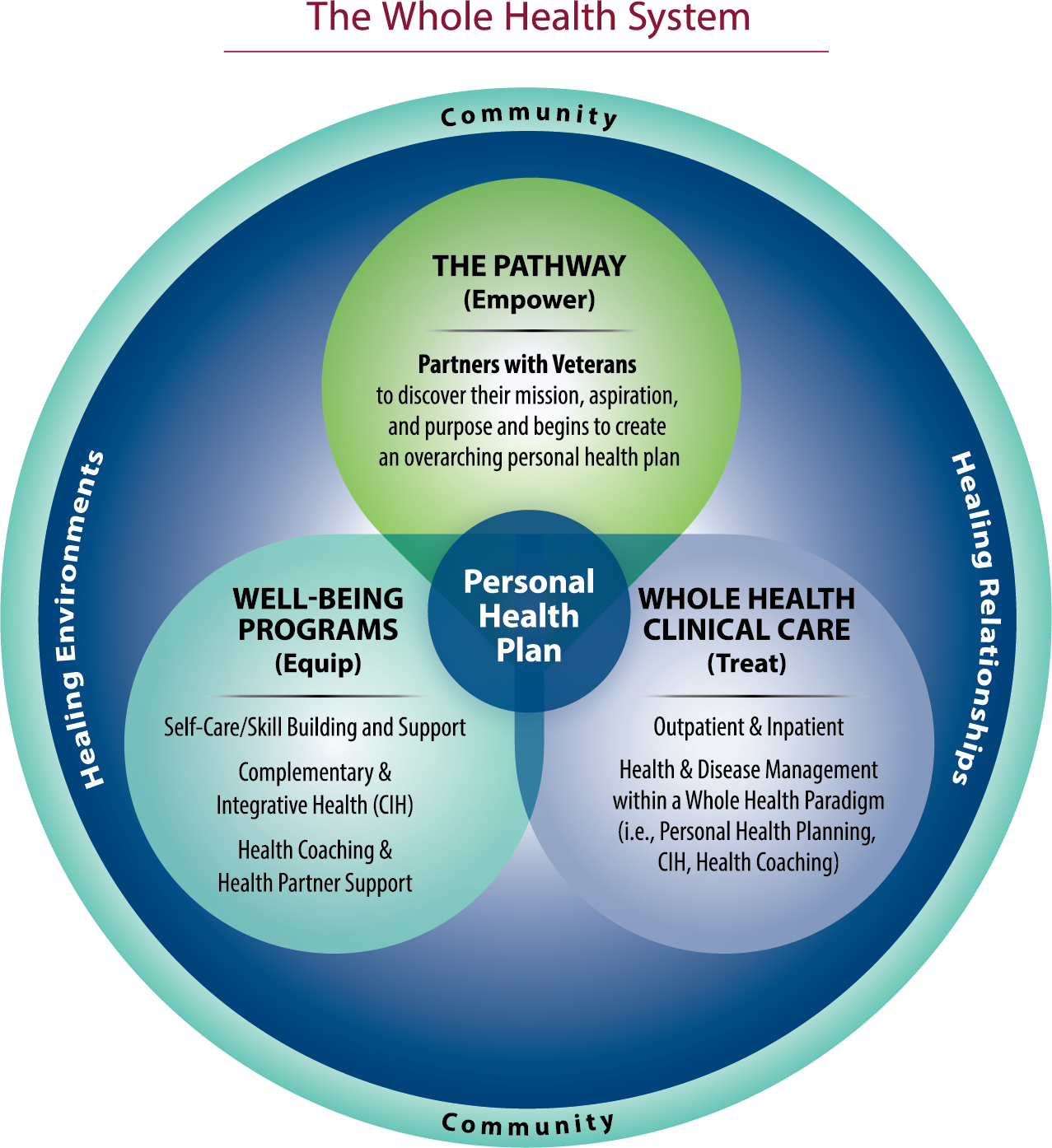 Whole Health is VA's cutting-edge approach to care that supports your health and well-being. Whole Health centers around what matters to you, not what is the matter with you. This means your health team will get to know you as a person, before working with you to develop a personalized health plan based on your values, needs, and goals.
Find out how you can #LiveWholeHealth from home through VA's ongoing self-care blog series. This series highlights Whole Health resources — such as video sessions for yoga or meditation — that you can follow along at home to live healthier and happier.
How to Get Started
Start a conversation with your health team about your needs and priorities, or learn about Whole Health practices from other Veterans through the Taking Charge of My Life and Health course or our Whole Health Passport Group.  (Ask your care team for a Whole Health Consult to enroll.)
VA staff and Veteran peers will support and guide you through the Personal Health Inventory self-assessment and help you create your Personal Health Plan. What matters to you will shape your plan and drive your choice of Well-being Programs and clinical treatments.
The road to better health and well-being starts here, with you.
Integrative Health
Integrative Health offers accessible, holistic, and pragmatic approaches to improve the quality of Veterans' lives, and to proactively prevent and manage chronic disease. We are dedicated to fostering a culture of patient-driven care that focuses on Veterans' personal wellness goals and serves the whole person—body, mind, and spirit.
Care We Provide
Team-Based Integrative Care Clinics
Integrated Pain Team: Interdisciplinary clinical team offering multi-modal biopsychosocial pain care and assisting patients in tapering opioid medications.

Integrative Health & Wellness Clinic: Consultative service for veterans living with chronic disease or motivated to prevent chronic disease through non-pharmacological self-management and lifestyle change; staffed by an interdisciplinary team with expertise in integrative health, mental health, physical therapy, and nutrition. 
Complementary & Integrative Health Clinical Services
Acupuncture: Comprehensive / full-body acupuncture for veterans with chronic pain.

Chiropractic Care: General chiropractic services for veterans with chronic pain.
Wellness Programs
Whole Health Outpatient Consult: Provides a personalized whole health intake visit to introduce veterans to wellness programs and resources available to them at VA and in the community. For any veteran interested in exploring wellness resources or setting proactive health goals.  Offered by phone/video. Provides one-stop shopping for wellness services that include, but are not limited to:

Whole Health Coaching

Yoga / Tai Chi

Exercise / Movement

Mind Body Wellness Groups

Recreation Therapy / Crafts

Whole Health Resource Directory: www.WholeHealth.VetsReturnHome.com